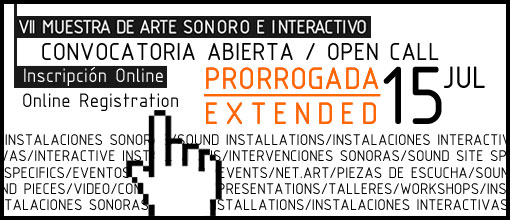 IN-SONORA VII
MUESTRA DE ARTE SONORO INTERACTIVO 
PRORROGA LA CONVOCATORIA DE PROYECTOS HASTA EL 15 DE JULIO DE 2011
.OS RECORDAMOS QUE LA INSCRIPCIÓN ES
ON-LINE
, MEDIANTE UN FORMULARIO
QUE ENCONTRARÉIS, JUNTO A LAS BASES, EN:
WWW.IN-SONORA.COM
ADEMÁS DE LA CONVOCATORIA GENERAL ABIERTA A PROPUESTAS YA PRODUCIDAS
EN FORMATO DE:
– INSTALACIÓN SONORA E INTERACTIVA
– EVENTO
– PIEZA SONORA
– NET.ART
– VIDEO
– CONFERENCIA
– TALLER
ESTE AÑO CONTAMOS CON UNA CONVOCATORIA ESPECÍFICA PARA LA SELECCIÓN
DE UNA  INTERVENCIÓN SONORA Y/O INTERACTIVA PARA EL DEPÓSITO DE ESPECIES
DE MATADERO MADRID PARA LA QUE SE CONTARÁ CON UNA AYUDA A LA PRODUCCIÓN DE 9.000 €.
ESPERAMOS VUESTRAS PROPUESTAS.
para contactar con nosotros: convocatoria.insonora@gmail.com
BASES CONVOCATORIA GENERAL   DESCARGAR )))
BASES CONVOCATORIA ESPECÍFICA   DESCARGAR )))
FORMULARIO ON-LINE   ENTRAR )))
// english version /////////////////////
other languages on the web
IN-SONORA VII SOUND AND INTERACTIVE ART FESTIVAL
extending the call for projects to 15 july 2011.
Please remember that the application is on-line, you can find the bases and the application form: www.in-sonora.com
In addition to the general open call for proposals in this formats:
– sound and interactive installation
– event
– sound piece
– net.art
– video
– conference
– workshop
This year we have an specific call for a Sound or Interactive intervention in the "Deposito de Especies" of Matadero Madrid,
with a support for the production of 9.000€.
We look forward to your proposals.
To contact us: convocatoria.insonora@gmail.com
 GENERAL CALL  BASES    DOWNLOAD )))
SPECÍFIC  CALL BASES   DOWNLOAD )))
ON-LINE APPLICATION FORM    ENTER )))
https://in-sonora.org/wp-content/uploads/2011/06/prorrogada.jpg
220
510
administrador
https://in-sonora.org/wp-content/uploads/2017/12/logo_in-sonora-1.png
administrador
2011-06-23 10:37:00
2018-04-04 14:48:04
IN-SONORA VII Convocatoria Prorrogada hasta el 15 de Julio // Call Extended to 15 July