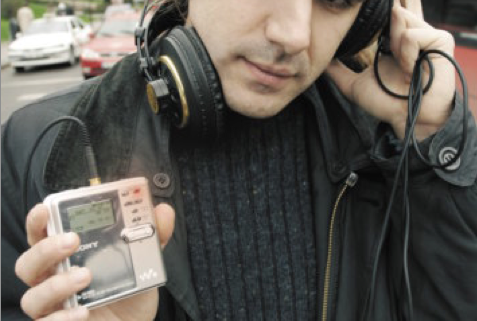 Bio
Estudia Piano, Teoría de la Música y Composición en los conservatorios de Madrid-Ferraz y Superior de Salamanca, trasladándose seguidamente a la Escuela Superior de Música de Friburgo, donde estudia Composición (Mathias Spahlinger), Música Electroacústica (Mesías Maiguashca y Orm Finnendahl) y entre 2002 y 2005 ocupa el cargo de Tutor del Estudio de Música Electrónica de dicha escuela. Posteriormente realiza una estancia en el Estudio de Música Electrónica de la Universidad Técnica de Berlín, recibiendo también lecciones del compositor Peter Ablinger. Durante 2006-07 fue compositor residente del CDMC en el Museo Reina Sofía (Madrid).
Junto a su actividad como compositor, mantiene un trabajo intenso como divulgador, publicando regularmente artículos en varios medios e impartiendo cursos y conferencias sobre composición, estética, análisis y nuevos medios.   Durante 2009 dirigió y presentó con María Santacecilia en Radio Círculo el programa de música contemporánea bisbigliando.
Hasta ahora, ha estado representado en varios lugares de Alemania, Noruega, Holanda, Hungría, China, Corea, Reino Unido, Serbia, Italia, México, Portugal o España. Su trabajo ha sido reconocido por medio de varios premios y becas: Festival Internacional de Darmstadt (2002 y 2004), Fundación Humboldt, DAAD/Fundación La Caixa, Ministerio de Cultura, Instituto Goethe, Comunidad de Madrid, SWR Stuttgart, Academia Europaea, Residencia de Estudiantes, Casa Velázquez, Matadero Madrid.
Actualmente compagina su actividad creativa con la enseñanza en el CSKG (Madrid), como profesor de Composición y codirector del Máster en Composición Electroacústica, así como en el Aula de Música Experimental de la misma ciudad.
ENG/
Born in Madrid in 1978. He studied Piano, Music Theory and Composition in the Conservatories of Madrid and Salamanca. In 2001, he continues in the University of Music of Freiburg (Germany) with Mathias Spahlinger (Composition), Mesías Maiguashca and Orm Finnendahl (both Electroacustic Music), working at the same time as assistant of the Studio of Electroacoustic Music in the same university. Since 2000, he participates actively in the International Summer Courses of Darmstadt, with several lectures and premieres. In 2005-06, granted by the Culture Ministry of Spain, he makes a stage in the Electroacoustic Music Studio of the Technique University of Berlin, receiving at the same time lessons with the composer Peter Ablinger. During 2007 he was composer in residence of the Reina Sofía Museum in Madrid.
Beside his "classical" studies, he is influenced by other kind of traditions and approaches, which has led him into the areas of Jazz, free improvisation, sound installations, video art and other modes of creation which go beyond the notational and stage praxis; he performs regularly in several improvisation and performance projects, mainly with electronic media and exploring the relationships between sound, image, dance and other kinds of artistic approaches.
Deeply interested in aesthetics of New Music, he regularly publishes articles in several media (kunstMusik, espacio sonoro, docenotas, Musiktexte, Ballade, Parergon, enrahonar…) giving also lectures and courses (Conservatories of Peking, Freiburg, Salamanca and Lisbon, Summer courses of Waldkirch, Lysebu center in Oslo, International Summercourses of Darmstadt, Cultural Centre of Belgrade, CANTE in Mexico…).
After several periods, his work is being defined in the last time as a deconstruction of several musical "a-prioris" that root in the socio-political reality. This leads the discourse into an area where the borders of music are questioned through several procedures: irruption of scenic, spatial and visual elements into the musical realm, amalgams with language or with recordings of the "outside"…
He has been represented in several places of Germany, Norway, Netherlands, Hungary, China, Italy, Serbia, Mexico, Portugal and Spain. His work has been recognized by means of several grants and prizes: International Summer Courses of Darmstadt, Humboldt Foundation, DAAD/La Caixa, Culture Ministry, Madrid Government, Goehte Institute, State Department of Germany, SWR Stuttgart, Academia Europaea, Residencia de Estudiantes (Madrid), Casa Velázquez (Madrid), Matadero (Madrid).
Presently, he is codirector of the Masters in Electroacoustic Composition in the CSKG Center in Madrid and Composition teacher.