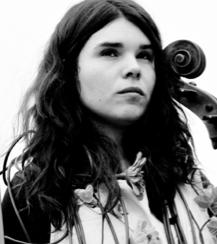 Bio
Yamila Ríos is a Spanish composer, performer and sound artist based in The Netherlands. Her artistic practice deals with the creation of aural spaces. These ephemeral spaces are neither fixed nor constant, allowing them to unfold and change in time. Since time is a necessary parameter to explore space, her compositions focus on each aspect, time and space. Her pieces consist of multiple textures and masses of sounds, each of them with their own internal and complex activity.
She has worked on various projects and pieces, exploring the use of live electronics mixed with the sonic exploration of traditional instruments. As a performer, she has developed an extension of her cello by attaching different sensors to the body of the instrument.
Her works have been presented at festivals such as Sonic Acts Festival (Amsterdam), Arts Electronica (Linz), In-Sonora Festival (Madrid), Seoul International Computer Music Festival, STRP Festival (Eindhoven), Electrogals Festival (Portland), Today's Art festival (The Hague) Kontraste Festival (Krems), Contemporary Music Festival (Sevilla) among many others.
Yamila holds a Bachelors and a Masters in Sonology form the Royal Conservatory of The Hague.