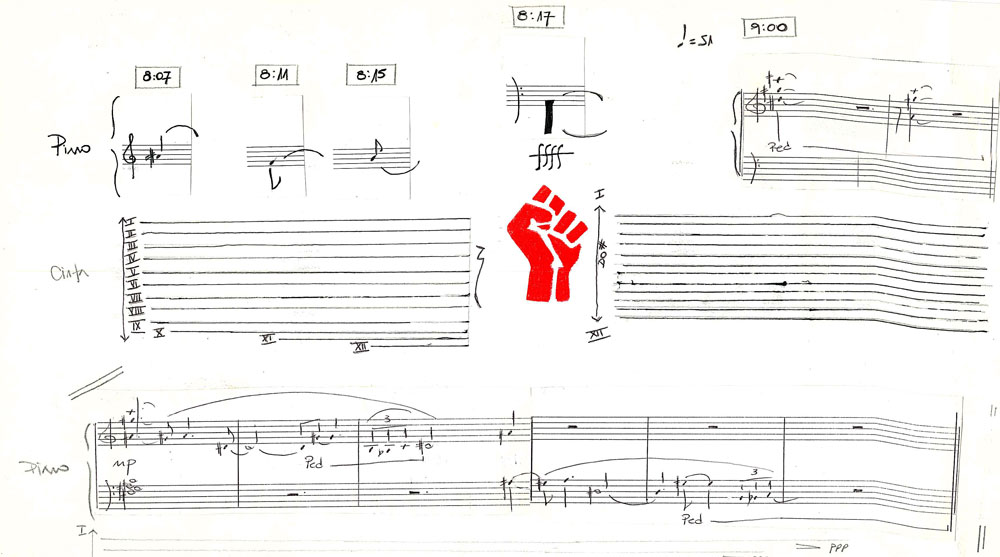 Conceptual definition
"Cada vez que nos presentamos ante un instrumento que produce de manera natural una reverberación, la noción de tiempo y espacio se enriquece gracias a ese fenómeno tan ajeno a la voluntad del compositor"
Pierre Boulez.
La obra es un primer acercamiento a un trabajo sobre la reverberación como fenómeno ajeno a la voluntan del compositor, y a su vez modificador del tiempo. Mediante la utilización de la electrónica, y la sincronización exacta con el piano las notas de de este instrumento no solo se mantienen en el tiempo, modificándolo, si no que también podemos trabajar sobre su movimiento en el espacio. La obra comienza exponiendo esta idea principal, con algunas notas seleccionadas según.
ENG//
"Whenever we introduce ourselves to an instrument that produces a reverberation in a natural way, the notion of time and space is enriched thanks to the foreign phenomenon of the will of the composer"
Pierre Boulez.
The piece is a first approach at a work exploring reverberations as foreign phenomenons of the will of the composer and in turn his way of modifying time. Using electronics and exact synchronization of the notes of the piano, the instrument not only maintains time but modifies it, and also works with movement in the space.
Technical description
12 dedos
Cecilia Castro
MNCARS auditorio 400
Sábado 29 de Marzo, 21h.
Entrada gratuita hasta completar aforo
Exposición
CENTROCENTRO
Sala Jorge Berlanga, 1ª planta acceso por cafetería
Del 25 al 30 de Marzo de 2014
Inauguración martes 25, 18h.
M-X-V: 18 – 20h., J: 17 a 19h. y S-D: 10 – 20h.
– – – – – – – – – – – – – – – – – – – – – – – – – –
Pieza Sonora, estéreo, 8´08´´
La pieza original es una obra para piano y electrónica sincronizada mediante cronómetro.
ENG//
The original piece is a work for piano and synchronized electronic timer.