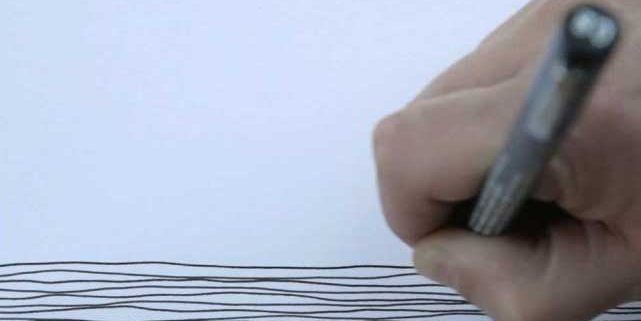 Conceptual definition
Yo dibujo líneas horizontales, una encima de otra, hasta que la pantalla esta llena creando una figura. La imagen resultante puede ser vista como un paisaje de mar. Durante el proceso del dibujo, el sonido de la pluma con el papel se asemeja a las olas del océano. En el vídeo inverso, la figura es deconstruída hasta que el papel está blanco otra vez. El ciclo creado por el bucle de vídeo también representa un paisaje marino, y es similar a la marea del océano.
ENG//
By drawing horizontal lines one over another until the video screen is full, a figure is constructed. The resulting image can be perceived as a sea landscape. During the process of drawing, the sound of the pen in touch with the paper resembles the sound of the ocean waves. On video reverse, the figure is then deconstructed until the paper is blank again. The cycle created by looping the video also refers to a sea landscape, as it is similar to the ocean tide.
Technical description
Sonata para Paisagem
Tchelo
Visionado
MNCARS auditorio 200
Viernes 21 de Marzo, 19.30h – 20.30h.
Exposición
CENTROCENTRO
Sala Jorge Berlanga, 1ª planta acceso por cafetería
Del 25 al 30 de Marzo de 2014
Inauguración martes 25, 18h.
M-X-V: 18 – 20h., J: 17 a 19h. y S-D: 10 – 20h.
– – – – – – – – – – – – – – – – – – – – – – – – – – – – –
Video HD, color, 16/9, estéreo
5´26´´