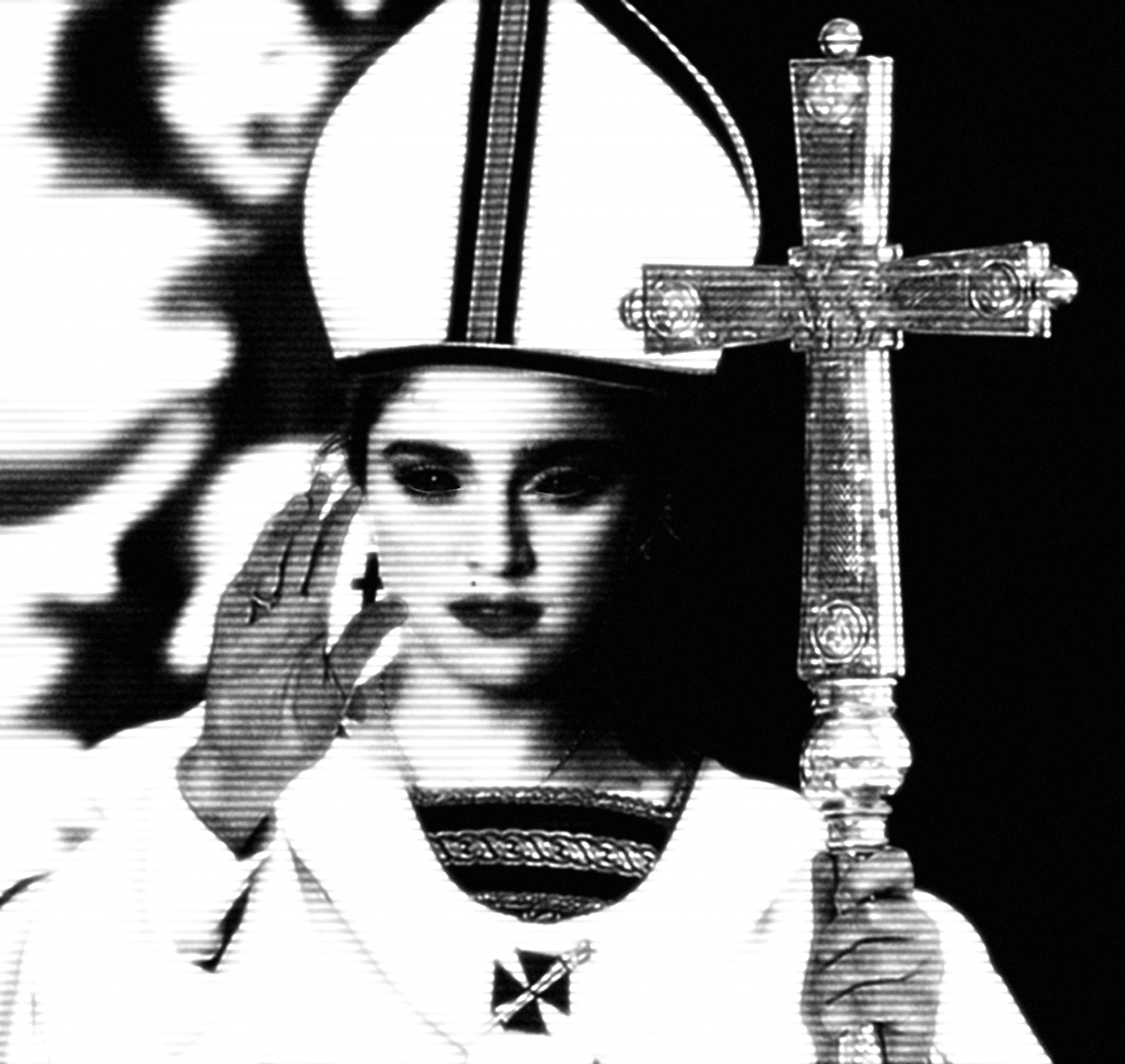 Conceptual definition
El catolicismo ha violentado a México desde sus inicios, una religión genocida, intolerante, puritana y llena de incongruencias, permea todas las capas de la vida cotidiana en mi país. El papa alude en su primer ángelus a la aparición de Madonna, así que yo lo complazco presentándola, así establecen un diálogo estos 2 representantes de ideologías totalitarias. La salsa de Joe Arroyo ameniza un Ave María, para que después unos niños canten una típica pieza a la Virgen de Guadalupe, por último, un joven nos relata qué significa para él la imagen de San Judas Tadeo. Esta pieza hace un chiste con todos elementos, al menos esa es mi intención, mover a la risa, con humor negro.
ENG//
The Catholic religion has been a violent force in Mexico since its inception. A genocidal, intolerant, puritanical religion, full of inconsistencies, Catholicism has permeated all the layers of everyday life in my country. The pope alluded to the appearance of Madonna in his first angelus prayer, and for that reason I am happy to present and establish a dialogue between these two representatives of totalitarian ideology. The salsa music of Joe Arroyo livens up a Hail Mary, then children sing a typical song about the Virgin of Guadalupe, and finally a child describes an image of San Judas Tadeo and its significance to him. It is my intention that this piece is a joke and makes the viewer laugh due to its dark humor.
Technical description
PaDonna
Neural Xolotl
Con la colaboración de la UNAM y FONCA, Conaculta. México
MNCARS auditorio 400
Sábado 15 de Marzo, 22.10h.
Entrada gratuita hasta completar aforo
Exposición
CENTROCENTRO
Sala Jorge Berlanga, 1ª planta acceso por cafetería
Del 25 al 30 de Marzo de 2014
Inauguración martes 25, 18h.
M-X-V: 18 – 20h., J: 17 a 19h. y S-D: 10 – 20h.
– – – – – – – – – – – – – – – – – – – – – –
Pieza sonora, estéreo, 2´28´´