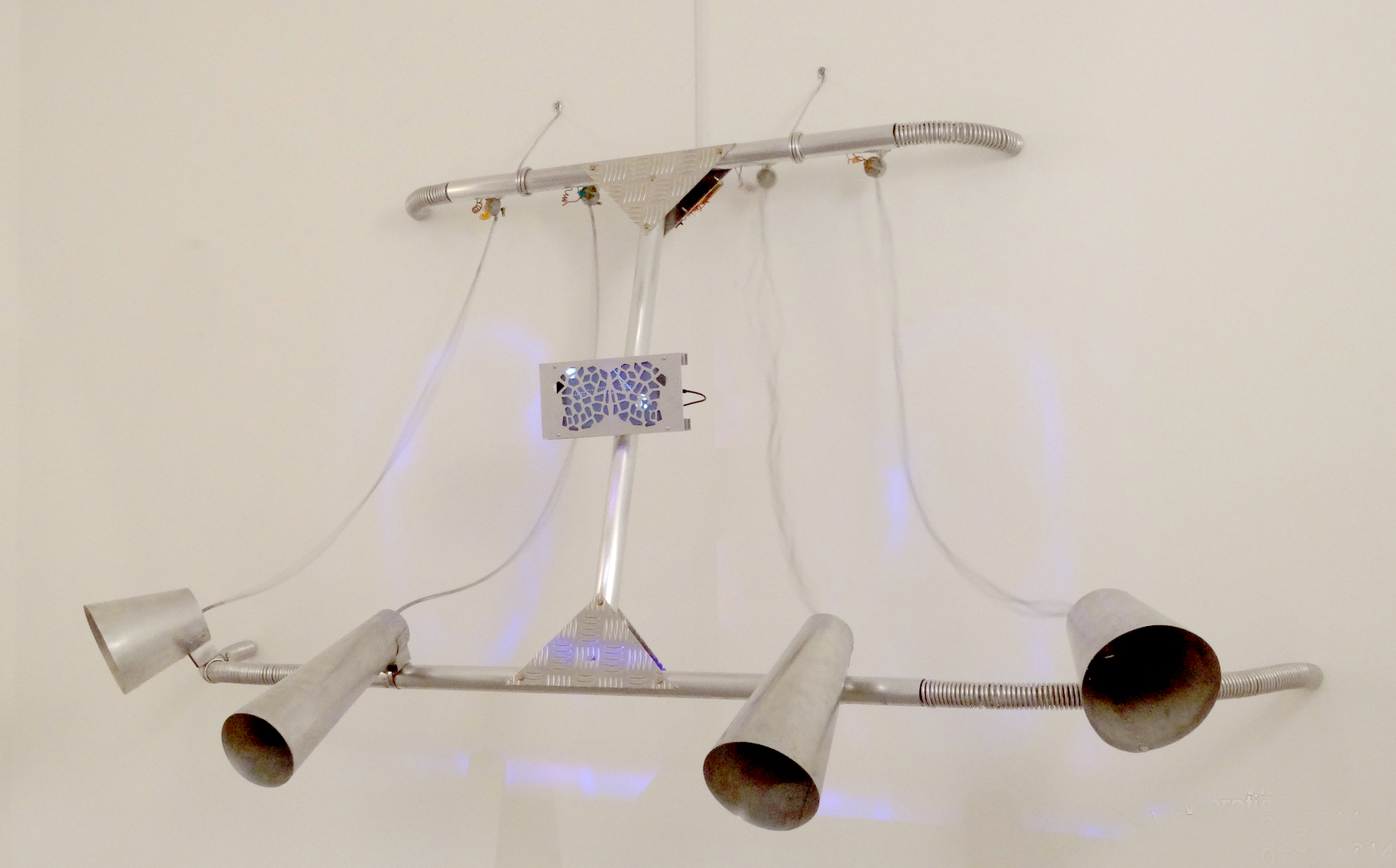 Conceptual definition
Escultura robótica sonora que produce variaciones tímbricas de forma puramente mecánica, en interacción emocional con el público, al que es capaz de "ver" artificialmente.
La obra explora la generación sonora directa por medios mecánicos, tal como hace un músico cuando interpreta un instrumento tradicional. Como dispositivo robótico inteligente pretende trascender la repetitibilidad propia de la acción mecánica automatizada, enriqueciendo la lectura de la partitura con componentes interpretativos variables, de acuerdo al estado anímico y emocional del propio robot. Esta emocionalidad artificial depende de ciertos componentes intrínsecos de la obra -su personalidad- y especialmente de un estado de ánimo variable, producto de la interacción de las personas con la obra, ya que es capaz de "ver" al público e interpretar sus acciones para con ella.
Instalación mecánica sonora robótica, con capacidad de interpretar un sistema propio de partitura. Dispositivo enteramente metálico, con cuerpo de aluminio y elementos vibratorios –resortes, membranas- de acero, cuyo sonido es amplificado en forma estrictamente mecánica por bocinas, sin intervención electrónica en la generación ni amplificación del sonido. Un microcomputador y motores eléctricos controlan la vibración de los resortes recibiendo por Bluetooth datos del sistema de Computer Vision (cámara, pantalla y software) que "ve" y reconoce las acciones de las personas. La interpretación de la partitura resulta así siempre diferente, influenciada por la interacción con el público.
ENG/
This work features robotic sound sculptures that produce various timbres of a purely mechanic form, in an emotional interaction with the public, even though it is capable of "seeing" artificially.
The piece explores the generation of direct sound through mechanical mediums, such as producing music when it interprets a traditional instrument. Just as a robotic mechanism pretends to transcend its own repeatability of the automated mechanical action, enriching the reading of the music score with variable and interpretive components, it is certain to the animated and emotional state of the robot itself. This artificial emotionality depends on certain intrinsic components of the work—its personality—and especially of a variable animated state, a product of the interaction of the people with the work, which is already capable of "seeing" the public and interpreting their actions.
Technical description
Instalación robótica y sonora
2015
Cruce
del 2 al 15 de marzo