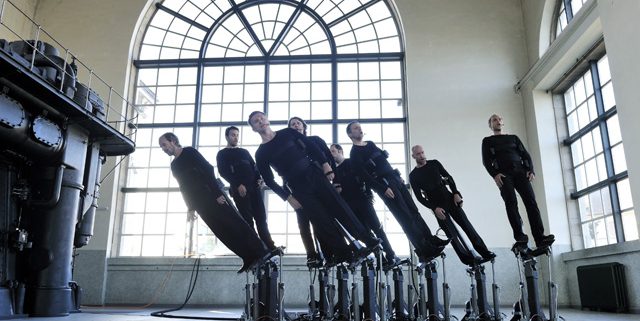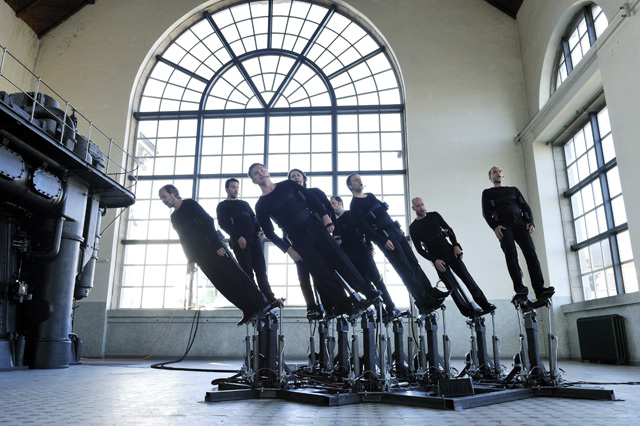 Descripción conceptual
Pendulum Choir (Coro pendular) es una original pieza coral para 9 voces a Cappella y 18 brazos hidráulicos. El coro se encuentra sobre unas plataformas de inclinación, lo que constituye un cuerpo sonoro viviente. Ese cuerpo se expresa a través de diferentes estados físicos. Su plasticidad varía a merced de su sonoridad. Entre sonidos abstractos, sonidos repetitivos y líricos o sonidos narrativos. Los cuerpos de los cantantes y sus voces juegan con y contra la gravedad. Se rozan y evitan entre sí creando polifonías vocales sutiles. O bien, con el apoyo de los sonidos electrónicos, rompen su cohesión, estallan con una elevación lírica o se pliegan en un ritual obsesivo y oscuro.
El órgano se desplaza desde la vida a la muerte en una alegoría robótica donde la complejidad tecnológica y el lirismo de los cuerpos en movimiento se combinan en una obra con detalles que remiten al mito de Prometeo.
Con el apoyo de la Fundación Suiza para la Cultura Pro Helvetia
ENG /
Pendulum Choir is an original choral piece for 9 A Cappella voices and 18 hydraulic jacks. The choir stands on tilting platforms, constituting a living, sonorous body. That body expresses itself through various physical states. Its plasticity varies at the mercy of its sonority. It varies between abstract sounds, repetitive sounds, and lyrical or narrative sounds. The bodies of the singers and their voices play with and against gravity. They brush and avoid each other creating subtle vocal polyphonies. Or, supported by electronic sounds, they break their cohesion and burst into lyrical flight or fold up into an obsessional and dark ritual.
The organ travels from life to death in a robotic allegory where the technological complexity and the lyricism of the moving bodies combine into a work with Promethean accents.
+ Culture Award 2009, Neuchatel Cantonal Bank
+ VIDA Concurso International Arte y Vida Artificial 2012
+ Grand Prize, Art Division, Japan Media Arts Festival 2013, Tokyo
+ Goldene Nica, Interactive Art, Ars Electronica 2013, Linz
With the support of Swiss Arts Council Pro Helvetia
Vídeo HDV 12´31´´
Pendulum choir, instalación:
Idea, construcción y composición musical: Michel Décosterd y André Décosterd
Interpretación: Jeune Opéra Compagnie – Voz
Dirección: Nicolas Farine
Tenores: Wolfgang Behrenz, Alain Bertschy, Michel Mülhauser
Barítonos: Davide Autieri, Sacha Michon, Christophe Gindraux
Graves: Francesco Biamonte, Michael Kreis, Christophe Mironneau
Colaboración técnica: Jacques Décosterd, François Bommottet
ENG /
Video HDV 12´31´´
Pendulum choir, installation:
Conception, construction and musical composition: Michel Décosterd et André Décosterd
Interpretation: Jeune Opéra Compagnie – Les Voix
Direction: Nicolas Farine
Tenors: Wolfgang Behrenz, Alain Bertschy, Michel Mülhauser
Baritones: Davide Autieri, Sacha Michon, Christophe Gindraux
Basses: Francesco Biamonte, Michael Kreis, Christophe Mironneau
Technical collaboration:
Jacques Décosterd, François Bommottet