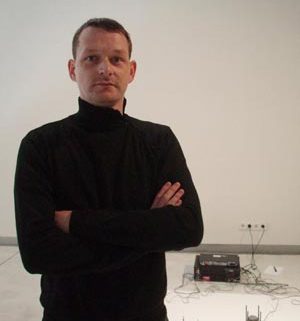 Bio
Lars Lundehave Hansen ha trabajado en la música drone ambient y el sonido durante los últimos 14 años. Como artista sonoro, es un entusiasta promotor y artista especializado en estos campos. Los trabajos habituales de Lars L. Hansen son a menudo construcciones, de manera que emiten o reacciona a sonidos o ruidos. Intenta explorar las relaciones entre timbre / espacio y acción / reacción.
Es también cofundador de la legendaria organización Noisejihad y está detrás del conocido drone-act de Wäldchengarten . Este último, que tiene muchos trabajos aclamados en su haber, ha realizado numerosas giras en Europa Central, Escandinavia, China, Japón, Brasil y participando en importantes festivales como el danés Roskilde Festival y el Festival de SPOT. Lars L. Hansen se graduó de Jutlandia Academia de Bellas Artes en 2006. Allí recibió el premio de distinción por su trabajo con el sonido en contextos artísticos. En 2011 recibió una Mención de Honor en Música Digital y Arte Sonoro en Ars Electronica en Austria por sus trabajo Spiderbytes.
ENG//
Lars Lundehave Hansen has been working in the fields of ambient/drones and noise for the past 14 years – as a sound artist, enthusiastic promoter of and dedicated performer in these fields. The usual works of Lars L. Hansen are often constructions, making a point of being constructions, that emit or react to sounds or noise. An attempt to explore the relations between timbre / room and action / reaction.
He also co-founded legendary organization Noisejihad and is the catalyst behind danish renowned drone-act Wäldchengarten. The latter, having many highly acclaimed releases under their belt, has toured extensively in Central-Europe, Scandinavia, China, Japan, Brazil and performed at major Danish festivals such as Roskilde Festival and SPOT Festival. Lars L. Hansen graduated from Jutland Academy of Fine Arts in 2006. There he received the award of distinction for his work with sound in artistic contexts. In 2011 he received a Honorary Mention in Digital Music and Sound Art at Ars Electronica in Austria for his work Spiderbytes.