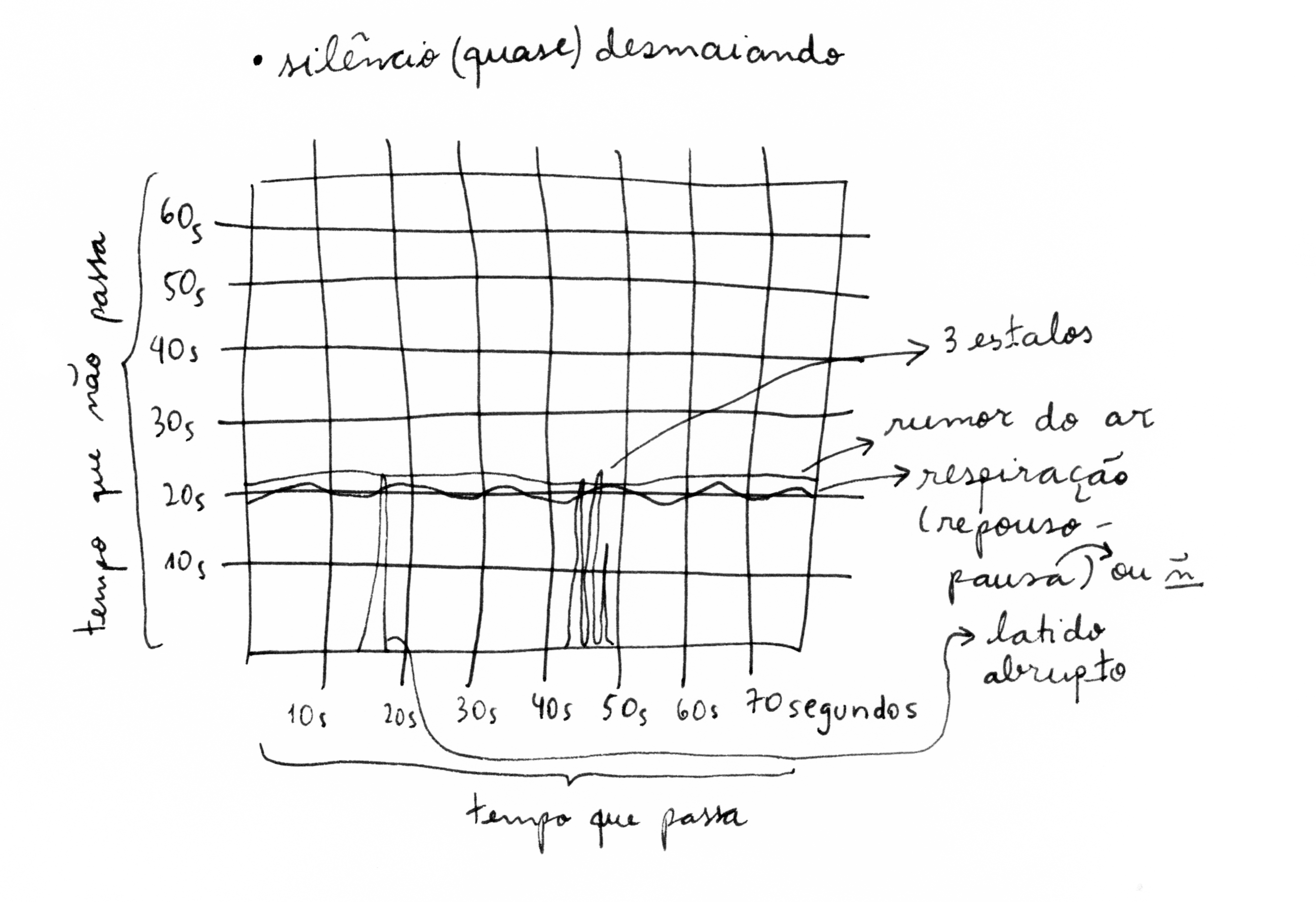 Descripción conceptual
49 silencios apilados es parte de la colección recopilada en la publicación de sonido silencioso de asonancia silencio [colección]. Desarrollado entre 2007 y 2010, la publicación es una colección de imágenes fijas grabadas en diferentes contextos, agrupados en un CD junto con material impreso (tarjetas de presentación, volantes, notas). La colección reúne cinco «especies» de silencios: los silencios preparados; silencios continuos; silencios imperfectos; silencios apilados; y el silencio en el lecho marino bajo el ruido de fondo. La noción de asonancia propone un silencio que hace eco en otro contexto sonoro, que resuena en una «escucha porosa» y viceversa, lo que provoca un examen preliminar, la repetición y el vértigo.
ENG//
49 silêncios empilhados is part of the collection gathered for the publication of silent sound of assonance silence [collection]. Developed between 2007 and 2010, the publication is a collection of set images recorded in different contexts, grouped in a CD together with printed material (presentation cards, flyers, notes). The collections brings together 5 silent "species": the prepared silences, continuing silences, imperfect silences, piled-up silence, and the noise of a riverbed under background noise. The idea of assonance proposes a silence that echos in other sound contexts that then resounds in "porous listening" and vice versa, this provokes preliminary examination, repetition, and vertigo.
49 silêncios empilhados
Raquel Stolf
MNCARS auditorio 400
Sábado 29 de Marzo, 21h.
Entrada gratuita hasta completar aforo
Exposición
CENTROCENTRO
Sala Jorge Berlanga, 1ª planta acceso por cafetería
Del 25 al 30 de Marzo de 2014
Inauguración martes 25, 18h.
M-X-V: 18 – 20h., J: 17 a 19h. y S-D: 10 – 20h.
– – – – – – – – – – – – – – – – – – – – – – – – – –
49 silêncios empilhados es la última de las 50 pistas de la publicación «Silencios asonantes [colección]».
ENG//
49 silêncios empilhados is the last track of the publication «Assonant silences [collection]», which has 50 audio tracks.