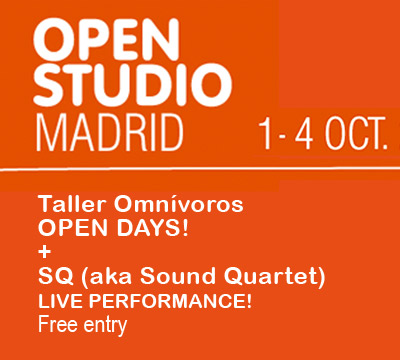 Open Studio, jornadas de puertas abiertas y actividades
IN-SONORA te invita a participar de las jornadas de puertas abiertas en Taller Omnívoros, nuestra sede en Madrid. Una oportunidad para conocer el espacio, y a los artistas y proyectos con quienes lo compartimos, disfrutando de varias actividades.
Podréis ver el proceso de trabajo de varios artistas residentes como Miguel Ángel Ballesta (gráfica, ilustración), Maite Camacho (visuales) y Alfredo Morte (orquesta microsinfónica), y colaboraciones como la de Julio Adán.
IN-SONORA ha tenido el placer de invitar además a SQ (aka Sound Quartet), un conjunto cambiante de músicos electrónicos/acústicos y artistas visuales en busca de nuevos cruces de caminos y territorios artísticos. La primera iniciativa fue de Thomas Bjelkeborn y Philippe Moenne-Loccoz quienes se conocieron y empezaron a trabajar juntos tras una residencia artística en 1992, EMS (Suecia).
La actuación de SQ (aka Sound Quartet) cerrará la programación de estas jornadas el Domingo 4 a las 19h.
ENG //
Open Studio, open days and activities
IN-SONORA invites you to participate in these open days in Taller Omnívoros, our headquarters in Madrid. An opportunity to meet the space, artists and projects with whom we share it, enjoying various activities.
You can see the work in progress of several resident artists as Michel Ángel Ballesta (graphic, illustration), Maite Camacho (visual) and Alfredo Morte  (microsimphonic orchestra), and collaborations such as Julio Adán.
IN-SONORA had the pleasure to invite SQ (aka Sound Quartet), an ever changing gathering of electronic/acoustic musicians and visual artists in a joint search for new artistic crossroads and territories. The first initiative was from musicians Thomas Bjelkeborn (SE) and Philippe Moenne-Loccoz (FR) out of experimental research since 1992 at EMS in Sweden and MIA in France.
The performance of SQ (aka Sound Quartet) will close the program of these dates on Sunday 4 october, at 19h.
Os esperamos en / you are welcome!
Taller Omnívoros
c/ Sierra de Segura, 22. Madrid
<M> Puente de Vallecas o Conde de Casal
Entrada libre / free entry
Horario Open Studio: del 1 al 4 de Octubre, de 11 a 15h y de 16 a 20h.
http://taller.omnivoros.net
https://in-sonora.org/wp-content/uploads/2015/09/Open-Studio-news.jpg
360
400
Maite Camacho
https://in-sonora.org/wp-content/uploads/2017/12/logo_in-sonora-1.png
Maite Camacho
2015-09-29 12:06:46
2018-04-04 13:20:43
Omnívoros en Open Studio